Asmara Eritrea - its wonderful people

A few years ago I decided to publish a story about Eritrea to please my wife, who is born in Asmara. The story proved to mean a lot to many Eritrean people in the Diaspora, soldiers of the US Army sent to Kagnew Station and potential visitors and tourists, which accelerated my efforts to improve it.

In May and June 1999 I visited Eritrea for the first time, and I was amazed by the hospitality of its people, their friendliness, their honesty and their determination to build up their country. What these people have achieved since 1991, the year their struggle for independence ended, deserves a lot of respect. They have demonstrated that it is not economists that build up a country, but it is its people and its government in close harmony.

Without begging the developed countries for financial or other aid, they just started the process of economic and social development themselves. The results are easily seen, traveling through the country. The people of Eritrea receive a lot of help from the approximately one million Eritreans living in the Diaspora, who fled for Ethiopian cruelties during the 1961-1991 war of liberation. I would like to join them, by making the web pages you have just seen, as an attempt to show the beauty of Asmara and the friendliness of its people to rest of the world.

In May and June 2000 I visited Eritrea for a second time. Lots of people wondered why I didn't cancel my flight, because of the Ethiopian invasion that started on May 12th 2000. I think it would have meant deserting the courageous people of Eritrea. I sincerely hope that my visit in the middle of this war, and the resulting pictures and the accompanying text, may be the best contribution I can make to the people of Eritrea, and the best revenge on Ethiopian aggression.

Where Mebrat made me start to write these pages, the people of Asmara and Eritrea treated me in a way that was so special that I started loving them as well. The Ethiopians locked me in Eritrea by bombing the airport of Asmara in June 2000, so I had all the time to gather data on the tourist opportunities in Asmara.

In these web pages I showed a lot of Eritrea's capital Asmara. Some things however, I cannot show. Hospitality and things like that you have to experience yourself by visiting this wonderful country, with its wonderful people.

Hans van der Splinter, The Netherlands.

&nbsp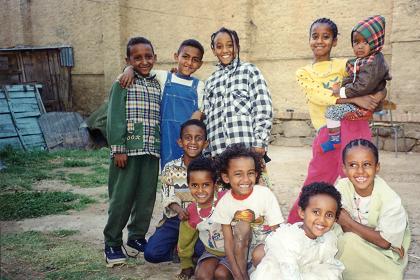 These children deserve to grow up in peace.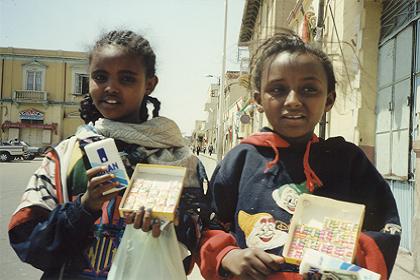 "Soft, mastika, soft, mastika!", Children, selling handkerchiefs
(soft) and chewing gum (mastika). They have lost their parents
in the recent war and try to survive by selling you small stuff.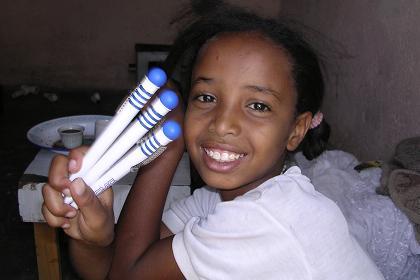 "Sir, can I have your pen?" For a lot of children in Eritrea a pen
from Europe, Canada, or the US, is a status symbol, something
worth showing to their friends and a useful tool for schoolwork.
So, please make sure you always have some pencils with you
when strolling through the streets of Asmara or any other city.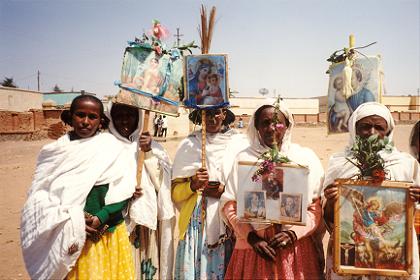 Asmara woman praying for peace - June 2000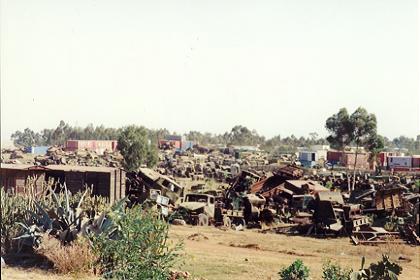 Graveyard of destroyed military equipment in Asmara.
(Heritage of the 1961-1991 liberation struggle) where
you can mourn the passing of hundreds of dumped
tanks, armored cars and other scrap military metal.
NOTE: The site is guarded, It is not allowed to make pictures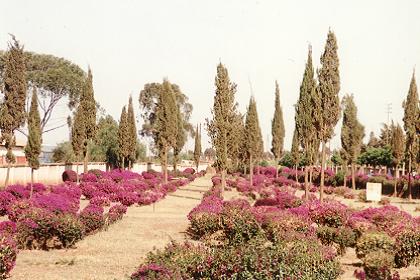 A tree for every martyr (memorial of the 1961-1991 liberation struggle).
Every family fought, every family made sacrifices, but justice triumphed.