Asmara public buses

Public transport is well organized in Asmara. with new Brazilian, Korean and Italian buses, and Toyota and Mitsubishi mini buses that have specific stops where they can be boarded.

The fare is one or two Nakfa (Two Nakfa for the mini buses).

The fare for a shared cab is 10-30 Nakfa within the city of Asmara (following the route of the bus). A contracted taxi will charge you 70 - 200 Nakfa. Negotiate the price in advance.

The buses are operated from 6.00 in the morning until 21.00 in the evening.

Long distance buses are operating between Asmara and various other cities in the country.

"Massawa, Massawa!", "Batse, Batse". Old Italian and new Mitsubishi
mini buses at the bus station north of the covered markets of
Asmara. They will wait until the seats are occupied and than leave
the bus depot for the three hours ride to Red Sea port Massawa.

---

Public Transport Zoba Maakel - Edaga Arbi Asmara Eritrea.

The routes of the local buses are:

Line number 0

Line number 1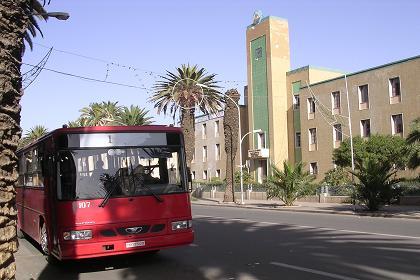 Line no 1 on Harnet Avenue Asmara heading for the airport.
Line number 2

Line number 3

Line number 4

Line number 5

Line number 6

Mede Ertra bus station (Eritrea Square) - Asmara Eritrea.

Line number 7

Line number 8

| | |
| --- | --- |
| | Gemel Public Transport |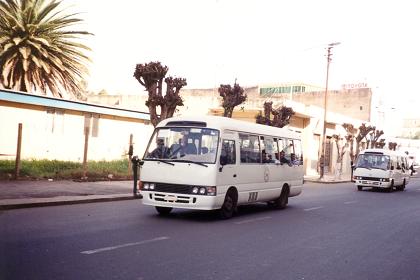 The mini buses follow the routes of the public buses.
They are faster, not numbered and generally more congested.
Line number 9

Line number 10 (operated by the Asmara Bus Company!)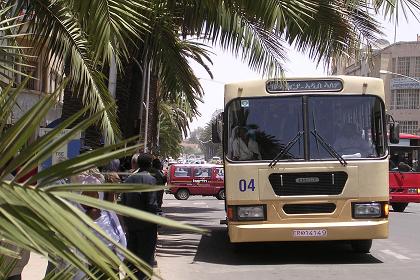 Line number 10 to Akrya - operated by the Asmara Bus Company.
Line number 10 (operated by Public Transport Zoba Maakel)

Line number 11

Line number 12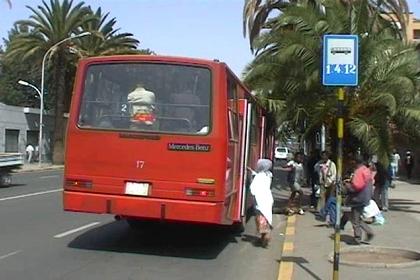 Line no 12 at the bus stop in Harnet Avenue Asmara.
Line number 13

Line number 14

Line number 15


Public Transport Zoba Maakel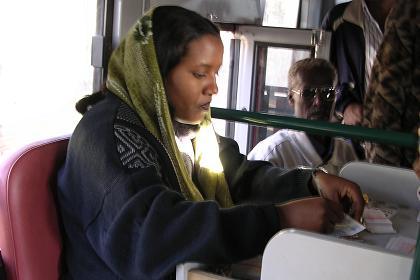 Casher selling tickets in the back of an Asmara public bus
Line number 16

Line number 17

Line number 18

Line number 19

Line number 20

Line number 21

Line number 24

Adi Guadad
Adi Raessi
Kutmowlie
Barda

Line number 25

Line number 26

On Harnet Avenue the busses number 1, 4, 8, 12, 13, 16, 19 and 20 will stop in front of the Cathedral / Ministry of Education.

On Harnet Avenue the busses number 1, 2, 7, 11, 14, 15 and 17 will stop in front of Photo Zubier / City Cake Cafe.

Attractive destinations (for tourists).
---
Taxis can be hailed anywhere along the main city streets. If your destination is along a main route and you are in a shared cab, the fare is 10-20 Nakfa per person.

Eritrean taxis are not metered. Therefore negotiate the price before getting into the taxi!

If your destination requires deviations from the regular routes (contract) you will be charged 70-200 Nakfa.

Taxi fares are higher in the evening (100 Nakfa) and you pay extra for any luggage carried (transfer from airport to your hotel may cost up to 500 Nakfa).

Taxi's can also be contracted as an efficient means of transport to various Eritrean towns and villages. These are some examples of prices for the longer distances:

Asmara - Massawa or Adi Keih (120 km) 5000 Nakfa (per contracted taxi)
Asmara - Keren (90 km) 4500 Nakfa
Asmara - Mendefera (60 km) 2500 Nakfa
Asmara - Dekemhare (40 km) 2000 Nakfa
Asmara - Ghinda (50 km) 2000 Nakfa
Asmara - Nefasit (25 km) 1000 Nakfa

All prices quoted in October 2014 when 1 US$ = 15 Nakfa
Prices and exchange rates may be subject to change

The prices of the contracted taxi's may vary, since they are dependent upon the fuel used, the mood of the driver and your own ability to negotiate a good price.
---

Long distance buses in Eritrea are not crowded because it is illegal for passengers to stand in the aisle. There are organized breakfast and/or lunch stops on longer trips. The driver will let everyone off the bus for 20 minutes or so for a meal, a drink and the use of a toilet. Calculate at least one hour for every 40 kilometer between the major destinations.

When traveling to remote places, like Assab, Nacfa, Tessenei or Senafe, make reservations for the return trip in advance, to prevent you will find yourself stuck in a remote place!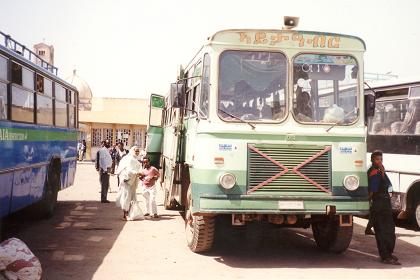 Long distance bus to Agordat (Edaga Hamus bus station)
Prices of the tickets for these buses:

Asmara - Assab (700 km partly dirt road) 240 Nakfa
Asmara - Massawa (120 km) 40 Nakfa
Asmara - Ghinda (50 km) 15 Nakfa
Asmara - Nefasit (25km) 8 Nakfa

Asmara - Keren (90 km) 30 Nakfa
Asmara - Agordat (150 km) 50 Nakfa
Asmara - Barentu (225 km) 75 Nakfa
Asmara - Tessenei (585 km) 105 Nakfa

Keren - Nacfa (130 km partly dirt road) 60 Nakfa


21/05/2004 Mendefera - Asmara 9.50 Nakfa

Asmara - Mendefera (60 km) 20 Nakfa
Asmara - Adi Quala (85 km) 30 Nakfa

Asmara - Dekemhare (40 km) 14 Nakfa
Asmara - Adi Keih (110 km) 35 Nakfa
Asmara - Senafe (135 km) 43 Nakfa

All prices quoted in October 2014 when 1 US$ = 15 Nakfa
Prices and exchange rates may be subject to change

Be prepared that you may be expected to pay the full price for covering only part of the distance (for instance if you choose to take the Massawa bus to visit Ghinda). I should stress that you are not overcharged because you are a foreigner.

Larger and older buses may be terribly slow, every other vehicle on the road passing your choice of transport with amazing velocity. So judge the quality of the bus before buying your ticket (if alternatives are available). Fast Toyota mini buses may charge an up to 250% surcharge on prices mentioned above.

Public Transport Zoba Maakel also rents mini buses (30 persons) for 4000-5000 Nakfa per day (driver inclusive).

Asmara / Zoba Maakel Public Transport
Phone +2911
Fax
PO Box
Asmara Bus Company
118025/114207
127670
853
Eritrea Public Transport
118443
Gemel Public Transport
161348
Public Transport Service of Eritrea
159246
Public Transport Maakel Region
200205/200207
201072
118902
182942
121483
Satae Company
161567
814

Main bus stations in Asmara and other landmarks


1 Mede Ertra bus station
(local buses only)
2 Massawa/Ghinda/
Assab/Tessenei
3 Greater Asmara
4 Keren/Dekemhare/Mendefera/
Adi Keih/Senafe

1 Nda Mariam Cathedral
2 Catholic Cathedral
3 Kidane Mehret Church
4 Greek Orthodox Church
6 Lutheran Church

1 Kulafa Al Rashidin
(Grand Mosque)
2 Haji Ibrahim Mohammed
Hussein
3 Sjeik Abdul Kader Al
Jelani

2 Hospitem
(Italian Hospital)
3 Selam Policlinic
7 Edaga Hamus Maternity

1 Cinema Capitol
2 Cinema Odeon
3 Asmara Theatre
4 Impero Cinema
5 Dante Cinema
9 Cinema Cathedral

10 Ambassador Hotel
11 Albergo Italia
(Keren Hotel)
12 Selam Hotel

Postoffice

5 Ibrahim Sultan School
9 Cathedral School
12 Arab school
14 St Mary's School

1 President's Office
2 Min. of Foreign Affairs
3 Min. of Finance
4 Ministry of Local
Government
5 Ministry of Education
6 Ministry of Health
8 Ministry of Tourism
9 Ministry of Justice
10 Ministry of Transport
and Communications
15 Ministry of Energy &
Mines